Shibuya Crossing - Colleges and Universities - Apartements & Share House
Shibuya-ku
Shibuya-ku is a special ward in Tokyo, Japan. As of 2008, it has an estimated population of 208,371 and a population density of 13,540 people per km2. The total area is 15.11 km2.

The name "Shibuya" is also used to refer to the shopping district which surrounds Shibuya Station, one of Tokyo's busiest railway stations. This area is known as one of the fashion centers of Japan, particularly for young people, and as a major nightlife area.
-Geography

Shibuya includes many well-known commercial and residential districts such as Daikanyama, Ebisu, Harajuku, Hiroo, Higashi, Omotesando, Sendagaya, and Yoyogi.
-Green areas

Meiji Shrine : Shinto shrine dedicated to the souls of Emperor Meiji and Empress Shoken, surrounded by a 700,000-square-meter forest.

Shinjuku Gyoen (Sendagaya) : former Imperial gardens now open to the public as a park.

Yoyogi Park : once a training base for the Imperial Japanese Army, later the Washington Heights housing area for the Occupation of Japan, then the lodgings for contestants in the Tokyo Olympics.
-Buildings

Shibuya 109 : a popular and trendy place for mostly Japanese young women to shop.
United Nations University
Bunkamura : theatre and concert hall complex
Cerulean Tower : the tallest building in the Shibuya Station area
Yebisu Garden Place (Ebisu) : site of the former Sapporo Brewery, now featuring restaurants and shopping, along with the Westin Hotel
National Noh Theatre (Sendagaya)
New National Theatre (Hatsudai) : site of opera, ballet, and other performances
NHK Broadcasting Center : headquarters of the NHK radio, television, and satellite broadcasting system
NTT Docomo Yoyogi Building : the third-tallest building in Tokyo, patterned after the Empire State Building
Omotesando Hills : a shopping mall completed in 2006
Southern Terrace (Sendagaya)
Takashimaya Times Square (Sendagaya) : one of the largest department stores in Japan
Tokyo Metropolitan Gymnasium (Sendagaya) : a major indoor arena complex
Tokyo Baptist Church
Yoyogi National Gymnasium : designed for the 1964 Olympics by Kenzo Tange.
-Streets and places

Aoyama Dori : a major east-west thoroughfare
Center Gai
Dogen-zaka : a road in central Shibuya famous for its surrounding nightclubs and love hotels
Komazawa Dori : running past Daikanyama, down the hill to Ebisu, crossing Meiji Dori and up the hill through Higashi and Hiroo. The road stops at the Shuto expressway in Minami Aoyama. Famed for its beautiful trees that turn bright yellow in autumn, cafes, restaurants and large replica of Michelangelo's David outside of the Papas building. Prince Hitachi and Princess Hitachi have their official residence in a palace in large gardens off Komazawadori in Higashi.
Koen Street : in central Shibuya between Shibuya Station and Yoyogi Park
Meiji Dori : a major north-south thoroughfare parallel to the Yamanote Line
Miyamasu-zaka
Omotesando : an avenue leading up to the Meiji Shrine with a number of famous-brand boutiques
Spain-zaka
Takeshita Street : a shopping street through Harajuku
Yamanote Street
Shibuya
Ebisu
Harajuku
Hiroo
Sendagaya
Yoyogi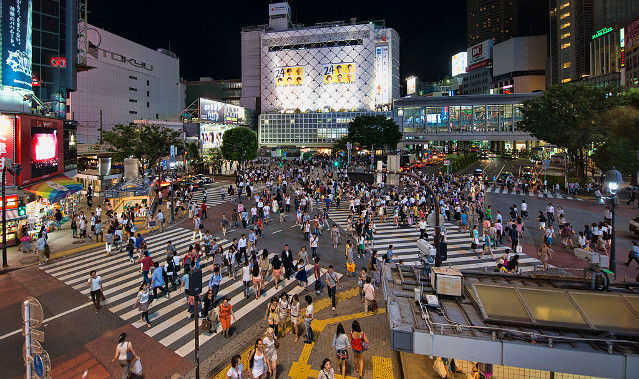 Shibuya is famous for its scramble crossing. It is located in front of the Shibuya Station Hachiko exit and stops vehicles in all directions to allow pedestrians to inundate the entire intersection. The statue of Hachiko, a dog, between the station and the intersection, is a common meeting place and almost always crowded.

Three large TV screens mounted on nearby buildings overlook the crossing, as well as many advertising signs. The Starbucks store overlooking the crossing is also one of the busiest in the world. Its heavy traffic and inundation of advertising has led to it being compared to the Times Square intersection in New York City. Tokyo-based architecture professor Julian Worrall has said Shibuya Crossing is "a great example of what Tokyo does best when it's not trying."

Shibuya Crossing is often featured in movies and television shows which take place in Tokyo, such as Lost in Translation, The Fast and the Furious: Tokyo Drift, and Resident Evil: Afterlife and Retribution, as well as on domestic and international news broadcasts. The iconic video screen featured in the above movies, in particular Lost in Translation with its 'walking dinosaur' scene, has been taken down and replaced with static advertising. It resumed operation on July 2013.

On the southwest side of Shibuya station there is another popular meeting place with a statue called "Moyai". The statue resembles a Moai statue, and it was given to Shibuya by the people of Niijima Island in 1980.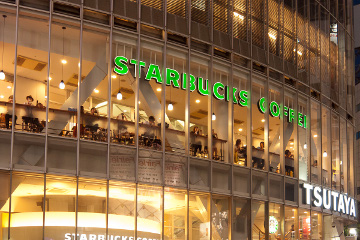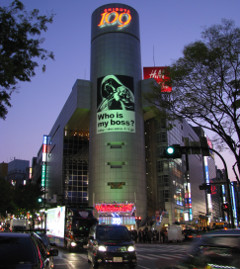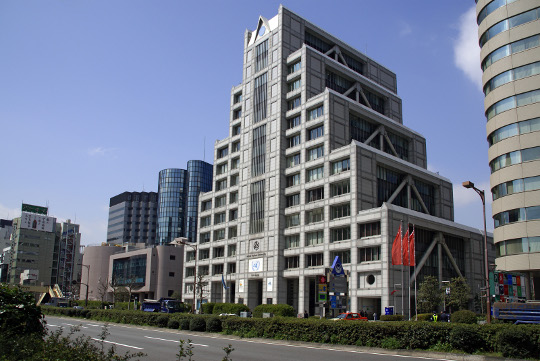 -United Nations University
The United Nations University (UNU), established in 1973, is the academic and research arm of the United Nations. It is headquartered in Tokyo, Japan, with diplomatic status as a UN institution. Since 2010, UNU has been authorized by the UN General Assembly to grant degrees. It also provides a bridge between the UN and the international academic, policy-making and private sector communities.
-Tokai University
Tokai University is unique amongst Japanese universities in referring to its faculties as "schools." Special features of the university include the Department of Nordic Studies, including instruction in (Danish, Swedish, Norwegian, Finnish and Icelandic) languages. The university also offers pilot training in cooperation with All Nippon Airways.
-Aoyama Gakuin University
Aoyama Gakuin University, abbreviated AGU, is a Japanese Christian university in Shibuya near Omotesando, Tokyo, Japan. Aoyama Gakuin University is part of a comprehensive educational institute called Aoyama Gakuin, which includes a kindergarten, an elementary school, junior and senior high schools, and a women's junior college.
-Jissen Women's University
Jissen Women's Educational Institute consists of Jissen Women's University, Junior College, High School, and Junior High School. The forerunners of the present institute were Jissen Girls' School and Jissen Girls' Polytechnic, founded by Utako Shimoda in 1899, with the aim of promoting spiritual and economic independence among women.
-Kokugakuin University (Higashi)
Kokugakuin University (Kokugakuin Daigaku, abbreviated as Kokugakudai or Kokudai) is a private university, whose main office is located in Tokyo's Shibuya district. It was established in 1920.

At Kokugakuin, one can take a course to obtain the qualifications to become a kannushi (Shinto priest). Among universities, a course where one can get these qualifications exists only at Kokugakuin University and Kogakkan University.
-University of the Sacred Heart (Hiroo)
The University of the Sacred Heart Seishin Joshi Daigaku) is a Japanese private women's university located in Hiroo, Shibuya, Tokyo. It was established in 1916 as a special school (senmon gakko) by the Society of the Sacred Heart. It became a university in 1948 and is one of the oldest women's universities in Japan.
-Bunka Gakuen University (Yoyogi)
Bunka Gakuen University (Bunka gakuen daigaku) is a private university in Shibuya, Tokyo, Japan. The predecessor of the school, a women's vocational school, was founded 1923. In 1952 it was chartered as a junior women's college. In 1964 it became a four-year college and it was named Bunka Women's University (Bunka joshi daigaku).?In 2011 it changed its name "Bunka Gakuen University".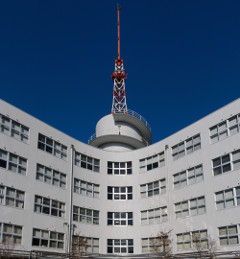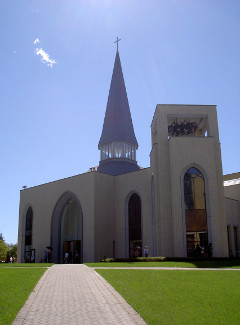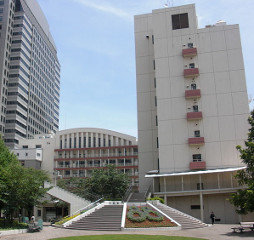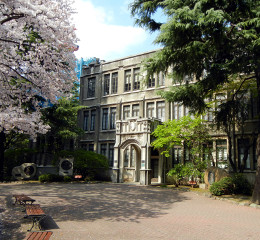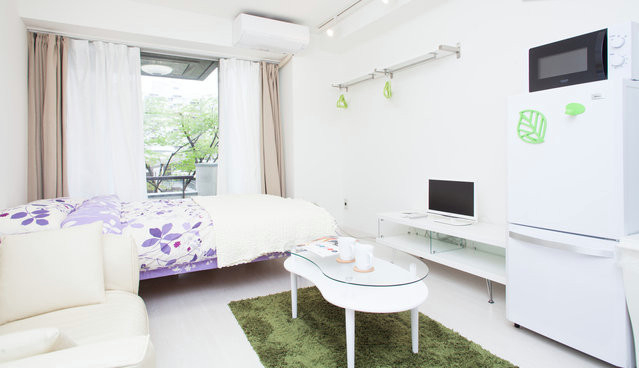 Whether you need a small-office/home-office or a room close to your job, whether you need a Tokyo apartment, whether you want to share a room with a friend, or if you just need a dormitory in the city to come back to and sleep, everyone has their reasons for what they are looking for. And they are all provided at reasonable prices.
-La Casa Minami Aoyama
My little Aoyama is ideal studio flat for single travelers but if you wish I can accommodate in maximum two people.

This is a private apartment with kitchen corner and bathroom/ shower.

Installed sofabed is perfect for one person (size 195cm x 102 cm when opened).

Free usage of the portable wifi connection, stay in or go out - always available.
-La Casa Aoyama
The Olympic city is awaiting for you.

La Casa Aoyama is located in a upscale neighborhood. Residential area in the heart of Tokyo. Business offices and shopping centers close by.

Walk to the Yoyogi park or trendy Harajuku.
From delicious Ramen shops to High class restaurants and bars in the surroundings, sports car stores like Tesla at a walking distance. Clubs in Shibuya and Roppongi.

MTV/Nickelodeon 3 minutes from the apartment, recording studios and Architect's office also at a walking distance. You can even go to the baseball stadium watch a game, you will be able to walk to the stadium and the gyms from this property.

-La Casa Gaienmae
Clean furnished Shared Apartment in fantastic central Tokyo location.

With easy access to the city's main areas this is a great opportunity to live in a prime Tokyo location for really good value for money. The extremely safe and pleasant area of Gaienmae boasts stylish restaurants, plenty of sports facilities (Golf, Tennis, Stadiums and a Gym) and is a very green area with parks and many trees. This 3DK apartment is 7 minutes walking distance to Gaienmae Subway station and very close walking distance to Omotosando and Harajuku.

Situated on the 4th Floor of a 5 story building the apartment is very clean and contains good quality equipment. The low deposit is refundable with just 10,000 Yen being deducted for cleaning fees, Pay-pal is available for reservation.

Please ask us about our long term stay Special Student Discount!