Geography - Colleges and Universities - Apartements & Share House
Shinjuku
Shinjuku is a special ward located in Tokyo Metropolis, Japan. It is a major commercial and administrative centre, housing the busiest train station in the world (Shinjuku Station) and the Tokyo Metropolitan Government Building, the administration centre for the government of Tokyo. As of 2008, the ward has an estimated population of 312,418 and a population density of 17,140 people per km2. The total area is 18.23 km2.
-Geography
Shinjuku is surrounded by Chiyoda to the east; Bunkyo and Toshima to the north; Nakano to the west, and Shibuya and Minato to the south.
The current city of Shinjuku grew out of several separate towns and villages, which have retained some distinctions despite growing together as part of the Tokyo metropolis.

"Shinjuku" is often popularly understood to mean the entire area surrounding Shinjuku Station, but the Shinjuku Southern Terrace complex and the areas to the west of the station and south of Koshu Kaido are part of the Yoyogi district of the city of Shibuya.

Naturally, most of Shinjuku is occupied by the Yodobashi Plateau, the most elevated portion of which extends through most of the Shinjuku Station area. The Kanda River runs through the Ochiai and Totsuka areas near sea level, but the Toshima Plateau also builds elevation in the northern extremities of Totsuka and Ochiai. The highest point in Shinjuku is Hakone-san in Toyama Park, 44.6 m above sea level.
-Sightseeing
Shinjuku is home to many well-known sights and tourist attractions.

Shinjuku Gyoen (Sendagaya) : former Imperial gardens now open to the public as a park.

Shinjuku Central Park (Shinjuku Chuo Koen) : The park is bordered by Honnnan Dori and Kita Dori to the north, Junisha Dori to the west, Suido Dori or Minami Dori to the south, and Koen Dori to the east. The park is surrounded by some of Tokyo's tallest buildings including the Tokyo Metropolitan Government Buildings 1 and 2, Hyatt Regency Tokyo, the Park Hyatt, and other hotels and office buildings.

Tokyo Metropolitan Government Building (designed by renowned architect Kenzo Tange) : Located in Shinjuku, the building consists of a complex of three structures, each taking up a city block. The tallest and most prominent of the three is Tokyo Metropolitan Main building No.1, a tower 48 stories tall that splits into two sections at the 33rd floor. The two panoramic observation decks, one in each tower on floor 45 (202 meters [663 ft] high), are free of charge to the public and contain gift shops and cafes.

Park Hyatt Tokyo and Park Tower (featured in the film Lost in Translation)

Waseda University's Okuma Auditorium

Waseda El Dorado building : also known as Rhythms of Vision, is a building designed by the Japanese architect Von Jour Caux and built in August, 1983. It is located near the Waseda University campus in Shinjuku, Tokyo, Japan.
-Government and politics
Like the other wards of Tokyo, Shinjuku has a status equivalent to that of a city. The current mayor is Hiroko Nakayama. The ward council (kugikai) consists of 38 elected members; the Liberal Democratic Party and New Komeito Party together currently hold a majority. The Democratic Party of Japan, Japanese Communist Party and the Social Democratic Party are also represented together with four independents. Shinjuku's city office (kuyakusho) is located on the southeastern edge of Kabukicho.

Shinjuku is also the location of the metropolitan government of Tokyo. The governor's office, the metropolitan assembly chamber, and all administrative head offices are located in the Tokyo Metropolitan Government Building. Technically, Shinjuku is therefore the prefectural capital of Tokyo; but according to a statement by the governor's office, Tokyo can usually be considered the capital of Tokyo (prefecture/"Metropolis") for geographical purposes. The Geographical Survey Institute (Kokudo Chiriin) names Tokyo (the city) as capital of Tokyo-to (the prefecture/"Metropolis")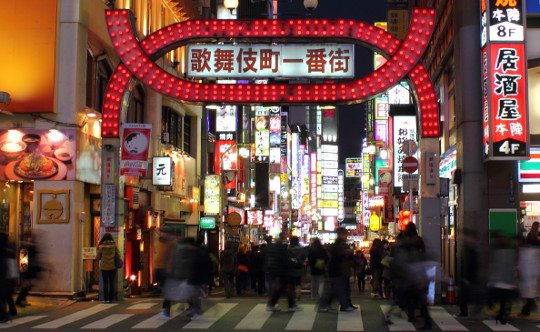 East Shinjuku
The area east of Shinjuku Station and surrounding Shinjuku-sanchome Station, historically known as Naito-Shinjuku, houses the city hall and the flagship Isetan department store, as well as several smaller areas of interest :
Kabukicho
: Tokyo's best-known red-light district, renowned for its variety of bars, restaurants, and sex-related establishments.
Golden Gai
: An area of tiny shanty-style bars and clubs. Musicians, artists, journalists, actors and directors gather here, and the ramshackle walls of the bars are literally plastered with film posters.
Shinjuku Gyoen
: A large park, 58.3 hectares, 3.5 km in circumference, blending Japanese traditional, English Landscape and French Formal style gardens.
Shinjuku Ni-chome
: Tokyo's best-known gay district.
Nishi-Shinjuku
The area west of Shinjuku Station, historically known as Yodobashi, is home to Tokyo's largest concentration of skyscrapers. Several of the tallest buildings in Tokyo are located in this area, including the Tokyo Metropolitan Government Building, KDDI Building and Park Tower.
Ochiai
The northwestern corner of Shinjuku, extending to the area around Ochiai-minami-nagasaki Station and the south side of Mejiro Station, is largely residential with a small business district around Nakai Station.
Okubo
The area surrounding Okubo Station, Shin-Okubo Station and Higashi-Shinjuku Station is best known as Tokyo's historic ethnic Korean neighborhood.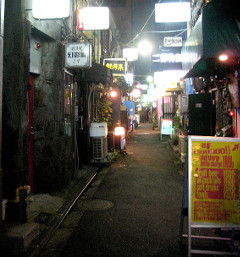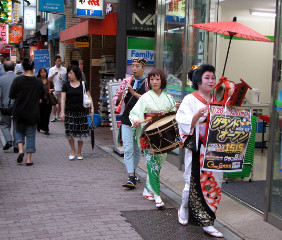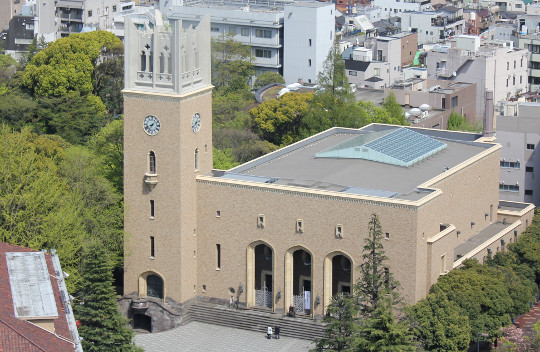 -Chuo University graduate school
Literally Central University, it's a private university in Tokyo, renowned for its law school. Chuo is one of the most prestigious schools in Japan. The University has four campuses at Tama (Hachi?ji), at Korakuen (Bunkyo, Tokyo), at Ichigaya (Shinjuku), and at Ichigaya-Tamachi (Shinjuku). Chuo University has six faculties, ten graduate schools, and nine research institutes. It also operates four high schools and two junior high schools.
-Gakushuin Women's College
Gakushuin Women's College (Gakushuin joshi daigaku) is a private women's college in Shinjuku, Tokyo, Japan; part of the Gakush?in School Corporation. The predecessor of the school was founded in 1847 by Emperor Komei. It was chartered as a junior college in 1949 and became a four-year college in 1998.
-Keio University
Keio University (Keio Gijuku Daigaku), abbreviated as Keio or Keidai, is a Japanese university located in Minato, Tokyo. It is known as the oldest institute of higher education in Japan. Founder Fukuzawa Yukichi originally established it as a school for Western studies in 1858 in Edo (now Tokyo). It has eleven campuses in Tokyo and Kanagawa. It has ten faculties: Letters, Economics, Law, Business and Commerce, Medicine, Science and Technology, Policy Management, Environment and Information Studies, Nursing and Medical Care, and Pharmacy.
-Kokugakuin University (Higashi)
Kokugakuin University (Kokugakuin Daigaku, abbreviated as Kokugakudai or Kokudai) is a private university, whose main office is located in Tokyo's Shibuya district. It was established in 1920.
-Mejiro University
Mejiro University (Meijiro Daigaku) is a private university in Shinjuku, Tokyo, Japan. The predecessor of the school was founded 1918 in Kumamoto, Kumamoto. It was chartered as a women's junior college in 1963. In 1994 it opened as a four-year college. The school also has facilities in Saitama, Saitama Prefecture.
-Waseda University
Waseda University (Waseda Daigaku), abbreviated as Sodai, is a private university mainly located in Shinjuku, Tokyo, Japan. As the second private university to be founded in Japan, Waseda University is considered to be one of Japan's most prestigious universities, consistently ranking amongst the top universities in Japanese university rankings. The University has many notable alumni in Japan, with seven Prime Ministers of Japan and many CEOs, including Tadashi Yanai, the CEO of UNIQLO and wealthiest man in Japan.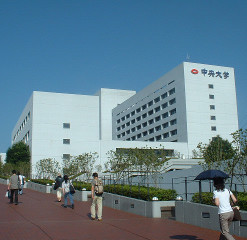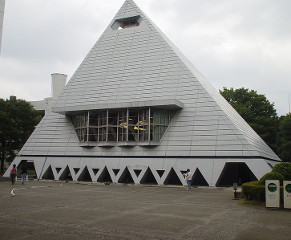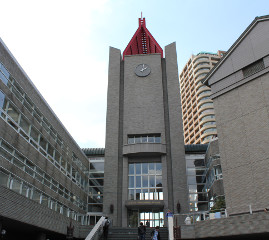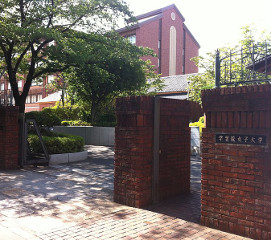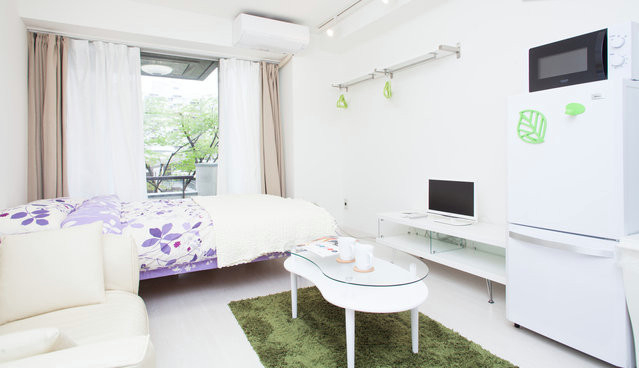 Whether you need a small-office/home-office or a room close to your job, whether you need a Tokyo apartment, whether you want to share a room with a friend, or if you just need a dormitory in the city to come back to and sleep, everyone has their reasons for what they are looking for. And they are all provided at reasonable prices.
-La Casa Nishi Shinjuku

The Space
This one bedroom (1K) type of private apartment is fully furnished and prepared for single and dual occupancy. For short time of stay there is a possibility even for 3 people rental.

Guest Access
La Casa Nishi Shinjuku is a private apartment with private kitchen and private bathroom/ toilet, no areas are shared.

The Neighborhood
Within short walking distance from Shinjuku Station you can reach to Nishi Shinjuku, home for the headquarters of many large companies, district of the tallest skyscrapers in Tokyo.
This region was called ad Tsunohazu before.
Eve-though surrounded by the tallest buildings you can still find a peaceful and enjoyable place to stay during your trip Tokyo.
-La Casa Kita Shinjuku House
This house is located in Kita-shinjuku, it's the best location since you are really close to Shinjuku.
By far the best option for international students, workers that work in the central part of Tokyo as well as short term travelers that are looking for a place to visit and travel around Tokyo.
Very economical and practical at the same time!
You will be at a walking distance from Takadanobaba, Higashi-Nakano and Tokyo's "Korea town" Shin-Okubo.
The tenants of this Sharehouse are long term residents that are very open minded.

Around the house you have immediate access to a drug store, ¥100 store, supermarket.

The room is in a 2 story house. In the first floor there is one room, the bathroom, toilet, kitchen/living and on the second floor there is 3 rooms. The room available has a balcony so you can dry your clothes. They will dry very fast during summer time.
The room has a plug to connect your computer to the Internet but you can also access to the web with the wifi.

It is a 10 m2 room with a desk, lots of storage space, and a nice semi double size bed. I accept couples or single tenants to stay in the room. For 2 people the price is 500 yen more per night per stay.